Hotel Byron - Athens
37.97028

,

23.73008
43US$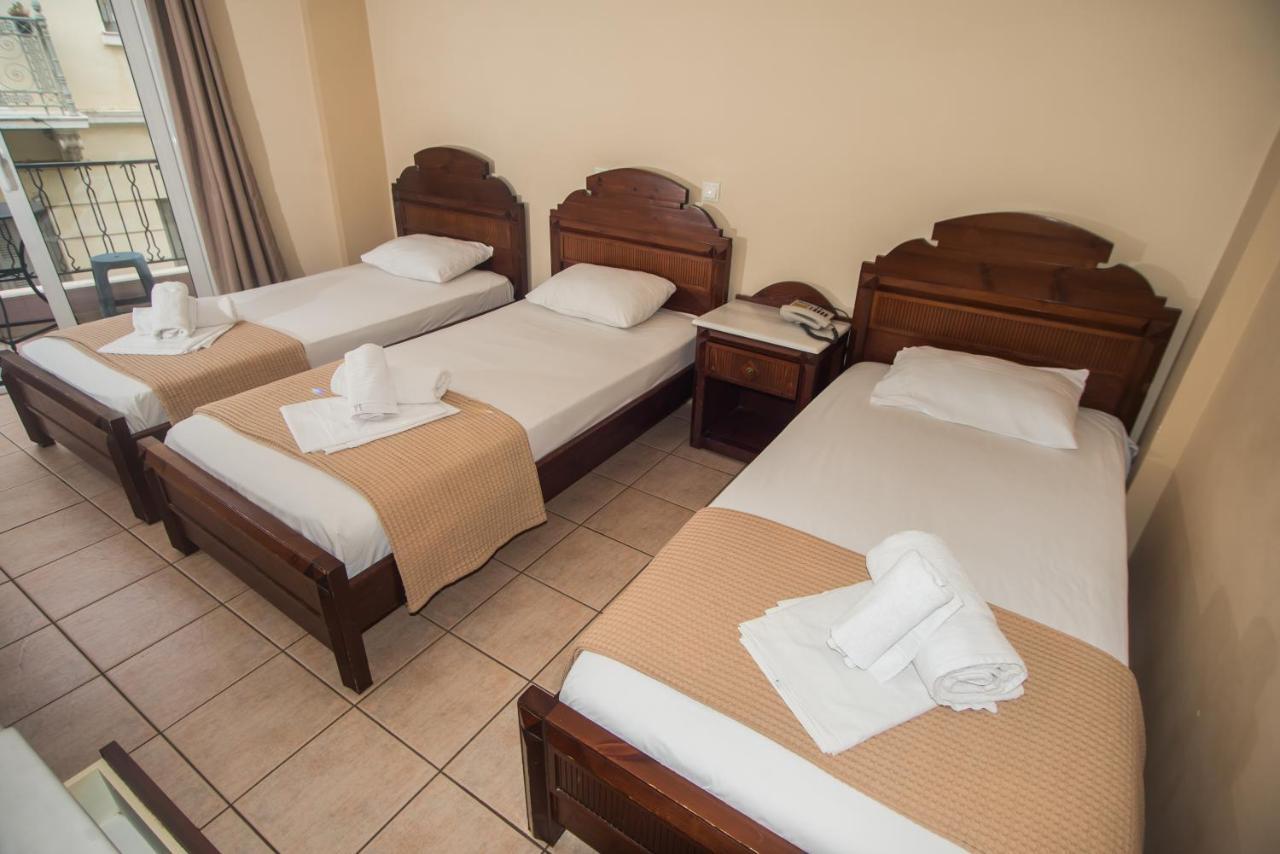 Highlights
Hotel Awards
According to guest reviews, the hotel has been rated as 
Use Badge
Address
19, Vyronos Str. - 10558
,
Athens
,
Greece
,
10558
, Attica
Overview
Hotel Byron Athens is nestled at the edge of gardens. Business travelers will appreciate conveniences like WiFi throughout the property and access to a desk and a photocopier.
Location
The 2-star hotel lies a few steps away from Parthenon Ruins, and at the edge of historic sites and monuments. The Athens hotel provides history lovers with proximity to the war memorial "Tomb of the Unknown Soldier" (1 mile) and the Roman ruins "Hadrian's Library" (0.8 miles). In addition, there are shopping streets, souvenir stores and designer boutiques at the edge of the Athens property. Entertainment in the area includes the ancient Greek Theatre of Dionysus feet from Hotel Byron.
The hotel stands about 5 minutes by foot from Akropoli subway station and about 15 minutes by foot from Monastiraki train station.
Rooms
Some rooms have marble flooring and private bathrooms. Bathrooms come with a separate toilet and a shower together with guest toiletries and towels.
Eat & Drink
Byron Athens offers on-site breakfast on the rooftop. The Athens accommodation is pretty near Liondi Traditional Greek Restaurant restaurant with Greek dishes.
The hotel offers a full breakfast at the price of EUR 10 per person per day. 
Leisure & Business
The Athens hotel boasts cafés, eateries and bars, where you can relax at the end of the day with friends or family.
Internet
Wireless internet is available in the entire hotel for free.
Guest Parking
No parking available.
Number of rooms:   22.
Facilities
Most popular facilities
24-hour services
24-hour reception
24-hour security
Food/ Drinks
Bar/ Lounge area
Restaurant
Welcome drink
Snack bar
Coffee shop
General
Wi-Fi
Baggage storage
24-hour services
Food/ Drinks
Shuttle
TV
Elevator
Services
Paid shuttle service
Room service
Car rental
Tours/Ticket assistance
Welcome drink
Dining
Restaurant
Snack bar
Bar/ Lounge area
Spa & Leisure
Live entertainment
Sun terrace
Room view
Garden view
Landscape view
Room features
Air conditioning
Heating
Patio
Terrace
Garden furniture
Media
Flat-screen TV
AM/FM alarm clock
Good to know
Check-in
from 15:00-23:59
FREE
Check-out
until 11 am
FREE
Pets
Pets are not allowed.
License number
0206K010Γ0008900
Rooms and availability

Bed options:

Max:

1 person
Shower

Heating

Air conditioning

Bed options:

2 Single beds or 1 Double bed

Max:

2 persons
City view

Shower

Heating

Air conditioning

Bed options:

Sleeping arrangements for 3 persons

Max:

3 persons
City view

Shower

Heating

Balcony

Air conditioning
Location
19, Vyronos Str. - 10558
,
Athens
,
Greece
,
10558
, Attica
City landmarks
Nearby
Restaurants
Ruin
Ancient Agora of Athens
3300 ft
Vassileos Konstantinou Avenue Vassileos Konstantinou Avenue
Panathenaic Stadium
3600 ft
Landmark
Temple of Hephaestus
1.0 mi
Cemetery
Archaeological site of Kerameikos
1.0 mi
Leoforos Vasilisis Amalias 1
28is Oktovriou 44
National Archaeological Museum
1.4 mi
Monument
Philopappos Monument
3300 ft
Event hall
Odeon of Herodes Atticus
3300 ft
Acropolis
Temple of Athena Nike
3300 ft
Museum
Museum of the City of Athens
4200 ft
Museum
Byzantine and Christian Museum
1.0 mi
Museum
National Historic Museum
4200 ft
Museum
Museum of Cycladic Art
1.0 mi
via Dionysiou Areopagitou str.
Acropolis Top of Dionyssiou Areopagitou
Leoforos Vasilissis Olgas Leoforos Amalias
Temple of Olympian Zeus
100 ft
cnr Sellei & Lysikratous
Choragic Monument of Lysicrates
100 ft
Museum
Ilias Lalaounis Jewelry Museum
100 ft
Tower
Tower of the Winds
100 ft
On northeast slope of Acropolis rock On northeast slope of Acropolis rock
Museum
Museum of Greek Folk Musical Instruments
100 ft
Museum
The Jewish Museum of Greece
100 ft
Kodrou 9 Plaka
Museum of Greek Children's Art
100 ft
Dionysiou Areopagitou
Theatre of Dionysus
100 ft
Restaurant
Smile Cafe Restaurant
1300 ft
Restaurant
O Gyros pou Girevis
600 ft
Getting around
Airports
Eleftherios Venizelos

(ATH)
21.3 mi
Santorini International

(JTR)
295.0 mi
Train
Monastiraki Railway Station
2700 ft
Thissio Railway Station
3700 ft
You can book a shuttle, once your reservation is complete.
Reviews of Hotel Byron
Ralph

Location

No hair dryer, it's cold in winter, no shower curtain in the bathroom.

Alfred

A VIEW FROM A NUMBER.

Breakfast.

Daniel

Location, view of the Acropolis.

Room smell

missing

Location, Location, Location. This hotel is smacked in the middle of Plaka, right under the Parthenon hill. Many shops and restaurants surround the hotel, as well as the Parthenon Museum, which is a short 5 min walk away. The hotel is in an old building, but very clean, and with double pane windows/doors, which keep the noise out of the room.

missing

Very convenient to the Plaka area of Athens. Much to do and see right outside the hotel and in close proximity. Friendly staff. Fairly quiet for being in such a highlypopulated area.

Some minor inconveniences in room. Screen had holes in it and mosquitoes entered. The toilet would not shut off unless you took the top off. Some lights did not work.

missing

This is a family-run hotel. It is safe, staff are friendly, very competent, and very forthcoming. It's a pleasure to be there.

missing

good location .. right above the Acropolis train station . about 2 mins walk from it.

lack of facilities, e.g. no hair dryer in the room. no wi-fi ..you have to go down to the lobby whenever you need to use it. toilet is very small. hardly enough for one person( i am only 5'8 and 148 p) shower , without curtain, or door , so toilet will get completely wet everytime after shower.very inconvenient. blanket look dirty .. i am not even dare to use it , so i use only the flat bad sheet to cover when i was sleeping . if you have the room located right next to the lift .. it's very noisey whenever the lift is operated. i thing the hotel is over charged for the room.

missing

Location very near the Acropolis - amazing location

missing

The location of the hotel was great for our stay & the people were friendly & helpful. Very good value for money considering how close you are to everything.

Only thing we didnt like was the breakfast but there are plenty of other options close bye. And the bed could have been a little softer but only very minor problems.

missing

The location is really great! Very close to the acropolis, to the metro and to the Plaka shops and restaurants. The staff is kind...We payed for a normal room but they gave us another room with a private balcony and the spectacular view of the acropolis!

The negative aspects are the fornitures, not new, and the beds, a bit hard for the back! Anymway it is clean and it's a perfect hotel if you want to stay there for a short period.. And the great location and the view let you forget about all the negative aspects.

missing

The only thing that Hotel Byron has going for it is its close location to the Acropolis and Plaka pedestrian walkways. Also, the staff was very friendly and helpful.

This hotel is for students or those who just need a clean place to crash in a convenient area. Do not expect anything in the way of comfort. The beds are like a child's mattress (vinyl and stiff) and you have to put the sheeting on yourself. The towels and blankets are visibly worn and old and the shower is hand held and extremely tiny. If you are a bigger person do not expect to be able to shower here.

missing

View of Acropolis - awesome!

It's basic but the view makes up for it.

missing

We were only there for one night, but thoroughly enjoyed the location, the balcony was excellent, it was good value for money, and fine for being a small hotel.

the mattress was too hard, so my bak was rather stiff the next morning

missing

The central location in the oldest part of the city. Making a quick return to my room for a rest or snack. Sitting on the balcony and watching the city's activity pass along the narrow road below. Being able to see the acropolis from my window and balcony.The most helpful staff at the hotel who were friendly and cheerful, assiting me with my needs.

I cannot say "I didn't like" I would say an improvement would be, an extra shelf in the bathroom for personal items. A coat hook on the door. a small fridge would be great and a coffee make machine. Other than that I could not ask for more.

missing

The location

The rood terrace was closed.
FAQ about Hotel Byron
How far is Hotel Byron from the city center?
Athens city center is reachable within a 20-minute walk from Hotel Byron.
What landmarks can I find in vicinity of the Byron?
The hilltop temple monument "Acropolis Museum" is only 100 feet away from the Byron, and the ruined Temple of Olympian Zeus is accessible with just a 5-minute walk.
Can I have breakfast at the 2-star Hotel Byron Athens?
Yes, guests of the 2-star Hotel Byron Athens can enjoy buffet breakfast served daily on the roof top.
What time is check-in and check-out at Hotel Byron?
Guests of Hotel Byron can check in from 3 PM to 11.59 PM and check out from 11 AM.
Which amenities are included in the rooms of the Athens hotel?
Every suite at the Athens hotel includes a flat-screen TV with satellite channels and private bathrooms along with free toiletries and bath sheets.
Does the Athens hotel offer facilities for business travelers?
Yes, for business travelers the Athens hotel provides a work desk and a xerox.
Does Hotel Byron Athens offer any rental services?
At Hotel Byron Athens guests are offered to rent cars.
Which facilities are available in Byron?
Top locations of Byron include a storage room and a restaurant, whereas guests' safety will be ensured with a safe deposit box and baggage storage.
Does Hotel Byron have a bar to relax at?
Guests of Hotel Byron are welcome to relax at the onsite snack bar.